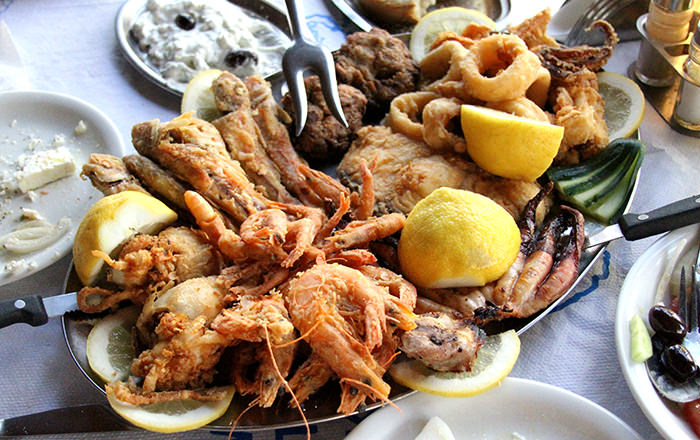 A Foodie's Guide to Rhodes Island's Best Restaurants and Local Cuisine
Are you a foodie planning a trip to Rhodes Island in Greece? Look no further, as we have prepared a comprehensive guide to the best restaurants and local cuisine on the island. From traditional tavernas to upscale dining experiences, Rhodes Island offers a variety of options to satisfy your taste buds.
Traditional Tavernas
When in Rhodes Island, one must try the traditional tavernas that serve authentic Greek cuisine. These tavernas are usually family-owned and run, and offer a cozy and friendly atmosphere. Some of the must-try dishes include moussaka, souvlaki, dolmades, and tzatziki. You can also indulge in fresh seafood dishes like octopus, calamari, and grilled fish. Some of the best traditional tavernas on the island are:
To Steki tou Garbi – Located in the heart of Rhodes Town, this taverna offers delicious grilled meat dishes and traditional Greek music.
Ta Kardasia – A family-run taverna in the village of Koskinou, known for its homemade dishes and warm hospitality.
Ouzokafenes – This traditional taverna in Lindos serves authentic Greek meze, accompanied by ouzo or wine.
Upscale Dining
For those looking for a more upscale dining experience, Rhodes Island offers a range of fine-dining restaurants that serve international and Greek fusion cuisine. These restaurants offer a sophisticated atmosphere, impeccable service, and unique culinary creations. Some of the best upscale restaurants on the island are:
Mavrikos – Located in the picturesque village of Lindos, Mavrikos offers a creative fusion of Greek and international cuisine, using fresh local ingredients.
Marco Polo – Situated in Rhodes Town, Marco Polo offers a panoramic view of the Old Town and a menu that blends traditional Greek flavors with modern culinary techniques.
La Luna – This elegant restaurant in Ixia offers Mediterranean and international cuisine, accompanied by an extensive wine list.
Local Delicacies
Apart from the traditional tavernas and upscale dining options, Rhodes Island offers some unique local delicacies that you must try during your visit. These include:
Honey and Nuts – Rhodes Island is famous for its high-quality honey and various types of nuts, such as almonds, walnuts, and pistachios. You can buy these products at local shops or visit the villages where they are produced.
Feta Cheese – Greek feta cheese is a staple ingredient in many Greek dishes, and Rhodes Island offers some of the best feta cheese in the country. You can buy it at local markets or try it at traditional tavernas.
Wine – Rhodes Island has a long tradition of wine-making, and produces some excellent varieties of red and white wine. You can visit local wineries and vineyards to taste and buy their products.
In conclusion, Rhodes Island offers a wide range of dining options that cater to every taste and budget. From traditional tavernas to upscale restaurants, and local delicacies, the island has something to offer for every foodie. So, plan your visit to Rhodes Island, and enjoy the unique culinary experience it has to offer.
Check our transfer and tours here : http://rhodes-transfer.com/