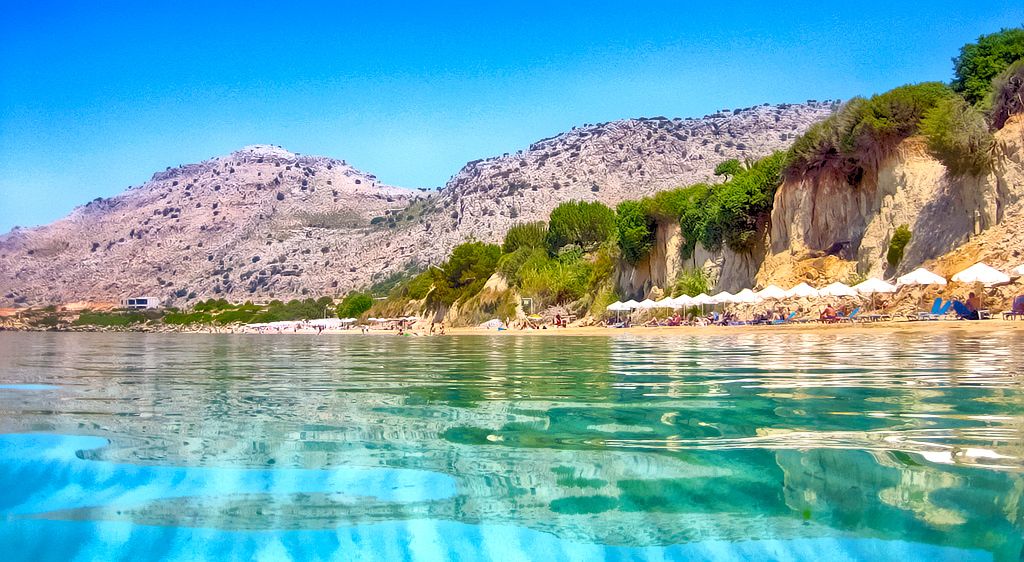 Pefkos of Rhodes
With its golden sandy beaches sloping gently into the crystal clear waters of the Aegean and spread along the coast at the foot of the pine clad Marmari hillside, Pefkos of Rhodes has long been a favourite summer retreat for Lindians and Rhodians alike.
In years gone by, entire families would decamp from Lindos and Rhodes, loading up their belongings and spending the summer months in the beautifully peaceful surroundings of Pefkos. They didn't give a second thought to the fact that there was neither running water nor electricity; they were more than happy to trade those creature comforts for idyllic halcyon summer days in Pefkos. Sun, sea and sand have always been a recipe for happy family holidays and Pefkos has always offered plenty of all three.
Since the 1970's tourism has been developing on Rhodes and gradually visitors began exploring the lesser-known areas of the island. Over the years the donkeys which usually carry visitors up to the Acropolis in Lindos have taken many a curious holidaymaker from the main square to Pefkos with no guide; just a tap on their rump to send them on their way … most of their owners frequently went their themselves so the donkeys knew their way!
At some point in the 1980s people decided they'd quite like to do what the locals did and spend their holidays soaking up the Greek sunshine and enjoying a leisurely Mediterannean lifestyle in Pefkos. Slowly the odd room became available to rent; then a restaurant and a bar popped up, then a shop … and the rest, as they say, is history. In recent years Pefkos has developed into one of the most popular holiday resorts on the island of Rhodes.
These days Pefkos (which means pine tree in Greek) is a relaxed resort, which is both picturesque and incredibly hospitable. A popular destination with locals and tourists, Pefkos has managed to keep its friendly, laid-back atmosphere and offers a warm welcome to families, couples, groups of friends and single travellers. Most of the businesses in the area are run by local families which has helped Pefkos remain very true to its roots; offering facilities which are welcomed by holidaymakers but never losing its essential Greek atmosphere.
Pefkos is a truly family friendly resort; all hotels, restaurants and bars are genuinely welcoming to children. Greeks, virtually without exception, love babies and children and are always willing to go out of their way to make sure your little ones are well catered for. Most supermarkets in resort have a small selection of toiletries for babies and a limited section of imported processed foods which will be familiar to young children. Restaurants will almost always be happy to adapt or adjust a meal to suit a young child (although Greek children will practically always eat the same as the rest of the family) and so feeding even a "picky eater" in Pefkos is really not a difficult task.
Pefkos is just large enough to offer a good selection of shops, restaurants, bars and cafes and just compact enough to be easy to find your way around. The main sweep of the resort is along one level road and over recent years we've done our best to make the pavements more manageable for those in wheelchairs or with mobility problems. The main road leading down to the beach is relatively easy to negotiate too.   Everyone speaks English (some better than others!) and all the menus are offered in both Greek and English
Pefkos is such a friendly resort that even if you travel on your own you're unlikely to feel lonely … If you prefer your own company then there are plenty of quiet spots to relax, read, lie back and unwind without being "bothered"; if you decide you'd like a bit of conversation you only need to pull up a chair to one of the bars and you'll be chatting away like old friends with someone within a couple of minutes. There are also quiz nights, karaoke evenings, performances and various other "events" at a number of locations around resort most evenings so if you'd like to be entertained you won't need to go far.   Many hotels have lending libraries so you needn't go short of reading material and virtually every swimming pool in Pefkos welcomes anyone and everyone to enjoy a dip in return for purchasing refreshments from the pool bar.
Pefkos is a great resort for couples on holiday; the beaches are great for swimming, snorkelling and sunbathing and, once the sun goes down, there is a huge selection of restaurants and bars.   One of the things most people love about Pefkos is its relaxed vibe … in the evening it's mostly about enjoying a bottle of wine with a delicious meal, or chatting over cocktails although you could take a short taxi ride into Lindos and visit one of the soundproofed nightclubs if you fancy a boogie!
You can book your transfer or tour here http://rhodes-transfer.com/
Learn more here: https://rhodespefkos.com/